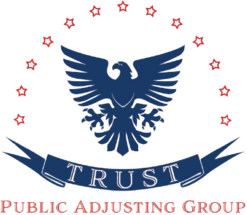 Services Offered by Trust Public Adjusting Group
Trust Public Adjusting Group is here to help homeowners with all types of property insurance coverage in Florida. The insurance company will send their adjuster to your property when a disaster strikes, and often times, it's in your best interest to be represented by your own public insurance adjuster. Our public insurance adjusters are experienced at helping both commercial and residential properties. We will make sure that you get the most return from your insurance claim if damage has been done to your property. Trust Public Adjusting Group is here to help insured property owners that have been impacted by damages caused via hurricane, wind, water, mold, fire, lightning, hail, flood, tornado, earthquake, vandalism and any other damage caused by impact to your property. Contact us today by calling 386-456-6885, emailing Claims@TrustPublicAdjusting.com or clicking on the appropriate link below.
Request a Complimentary Review | Purchasing property insurance coverage is only the first step. Learn how our team of local public adjusters will help get the most from it – sometimes even before property damage happens. If your insured property (home or business) recently suffered damage of any kind, allow us to give everything a complimentary review! Request a free property inspection, policy review and consulation with one of our experienced public insurance adjusters.
Commercial Property Insurance | Business Insurance Representation | Trust Public Adjusting Group helps all levels of insured businesses that have suffered some kind of damage, including various types of Business Interuption Claims even some Business Loss Property Insurance Claims with values exceeding $22,000,000.
Residential Property Insurance | Homeowners Insurance Representation | We have successfully helped well over 2,000 Florida homeowners (and counting) get a fair property claim settlement. If you'd like an expert on your side of this process, please schedule a time to speak with one of our highly qualified Florida public insurance adjusters that are here and ready to help you.