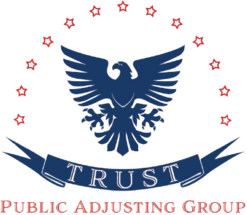 Contact Our Team of Florida Public Adjusters
Florida property owners should contact our team of Public Adjusters for the best help. Get started by reaching out to one of our top-rate public insurance adjusters today.  If you have been looking for a local Florida private insurance adjuster, do not wait any longer to contact our experienced team of public adjusters at Trust Public Adjusting Group.
You have enough to worry about. If you are not sure what to do, which contractors to use and unfamiliar with the property insurance claims process, allow Trust Public Adjusting Group to help. Our experienced team of Public Adjusters will fight for your best interests and make sure you receive the proper payout from your property insurance claim. We help all types of insured property owners in Florida and have multiple offices located throughout the state. Take advantage of our free policy reviews and contact us. Text 850-708-2582, email Claims@TrustPublicAdjusting.com, or directly call one of our Florida offices to get started today. 
Trust Public Adjusting Group proudly serves all types of residential and commercial properties owners throughout the entire state of Florida! Contact us today and discover what makes us Florida's Favorite Public Adjusters. Our experienced team of public insurance adjusters are ready to help you get the most from your storm damage insurance claim. Searching For a Qualified Private Insurance Adjuster? Contact a Public Adjuster Today!
---
Contact a Public Adjuster Today
---