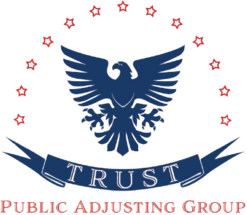 When should you contact a Public Adjuster? 
After experiencing damage to your home, such as roof damage, contact us to schedule a complimentary property inspection of the damage. We are here to help insured business owners and homeowners, no matter the current status of the property insurance claim. Trust Public Adjusting Group will first determine the value of your property insurance claim and will then create a contract for representation. This process is simple for the homeowner, because we can take over almost every aspect of your claim once a contract is in place for representation.  
We contact your insurance company and write a fair estimate. 

We file all paperwork for your property's insurance claim. 

We fight to make sure that your claim is closed at its maximum potential.  
How much does it cost to hire Trust Public Adjusting Group?
We only get paid if you get paid! During the initial assessment, we will establish a percentage charge of the claim's net settlement. Once we have worked your claim and have it settled, the homeowner will receive compensation and then they will be responsible for paying us. If we are not able to help with the claim, then the homeowner will not own us anything. Trust Public Adjusting Group will make sure the insurance company pays a fair amount for your claim, helping all parties come to a satisfactory conclusion. No matter the current status of your property damage claim, the public insurance adjusters at Trust Public Adjusting Group are here to help insured business owners and homeowners. If your home or business has suffered damage, email Claims@TrustPublicAdjusting.com or call 386-456-6885 to schedule a free consultation.