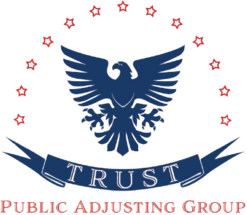 Deciding to Hire a Public Adjuster
or Insurance Attorney
If you have experienced property damage from a natural disaster such as a wind or hail-storm, fire, tornado busted water pipe or whatever else, you will need to file an insurance claim. The claim process can be time consuming, overwhelming and stressful. All you want is your life back and while your insurance company seems to be working against this goal, the good news is that you do have a few options for positioning yourself in the best way possible!
HIRE A PUBLIC ADJUSTER
This option is the fastest way to get the most money without litigation. Hiring the right public insurance adjuster for your property insurance claim will allow you continue through life with confidence that your claim will be handled correctly and expedited with the appropriate payout. Trust Public Adjusting Group (TRUST) will take care of the preparation of insurance documents, while strategizing the most effective claim process, and dealing with a multitude of meetings and timely phone calls. Preparing a claim and how it is presented to the insurance carrier is vastly important for proper indemnification, leading to getting a quick and high payout!
In the rare occurrence after Trust Public Adjusting Group has been hired, legal action might be needed and our experts will make sure that your insurance claim has been accurately documented and strategized, which will help expedite the litigation process. TRUST has a network of attorneys with the highest accolades and can help find the best attorney for your residential or commercial property damage claim. Hiring TRUST will connect you with the best insurance attorneys in the industry, meaning, if litigation is needed, you will not be blindly picking an attorney and your claim will be expedited as the attorney will have a perfectly prepared, "dream claim" for taking into litigation. Please note that specific attorneys may be needed for specific claims as every claim is different.
HIRE A FLORIDA INSURANCE ATTORNEY
As mentioned above, we feel that it is best to start with a hiring an experience and trusted public adjuster. Hiring an attorney is often considered the last step, as it can be a long drawn out process, especially if the claim is taken to litigation and/or trial. If your claim is not taken to litigation, an attorney could essentially charge up to 40% of the claim proceeds, for simply preparing it just as a public adjuster (Public Adjusters costs are legally capped at 20% for non-hurricane and 10% for hurricane related claims). Attorneys are experts in litigation and law, but not so much damage experts. A good public insurance adjuster will assess damages and write detailed estimates, along with using their expertise with preparation, documentation and assessment of a claim (what is usually needed for close a claim without litigation). In fact… Often times attorneys will hire public adjusters to assess the damages, create estimates and prepare documents. However, when litigation is unavoidable, Trust Public Adjusting Group has the network of attorneys and law firms to connect you with! Attorneys are always reaching out to Trust Public Adjusting Group and vice versa, as we complement each other while making sure that you (the property owner) is best taken care of.
A public adjuster will thoroughly review your policy, survey your property, document damage, discover unforeseen damage and then present these discoveries to the insurance company. Public insurance adjusters negotiate the maximum possible settlement for your claim. This could take a few days to a few months, depending on your insurance company and the stage of your claim. During this time, the Trust Public Adjusting Group will stay in contact with your insurance carrier on your behalf.
Once a settlement is reached, the check will be issued. If an agreement cannot be reached or you are not satisfied with the results, then considering an insurance attorney would be our next step.
ENVOKING APPRAISAL
This option is not always included in property insurance policies and typically involves upfront out-of-pocket money. The insurance appraisal process is an option in which a property owner and the insurance company both hire insurance appraisers. If the appraisers cannot reach an agreement, an "umpire" is selected by the appraisers. The umpire acts as the "judge" or "mediator" between the two appraisers and has the final decision. The cost of the umpire is split between the insurance company and property owner. Once either insurance appraiser agrees with the umpire, the claim is completed.
Contact Trust Public Adjusting Group or Pure Estimates for more information about insurance appraisal. Call 386-456-6885 email claims@trustpublicadjusting.com or click the button below to get started.