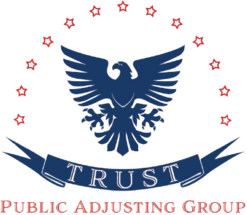 Top Things to Know About Wind Damage Insurance Claims in Florida
Getting Help from a Qualified Florida Public Insurance Adjuster
If you are a resident of Florida, having insurance to cover wind damage to your property is vital when looking for full compensation and recovery. Hiring a public adjuster is the best way to ensure that an insurance claim is paid in full. Our licensed private insurance adjusters are experts at negotiating drastically increased settlements from your property insurance company. Trust Public Adjusting Group is a team of the best public insurance adjusters that help insured Florida homeowners recover a whole lot more than their original offer from the insurance company (AVERAGING AN INCREASED PAYOUT OF OVER 700 PERCENT)!
Detecting Wind Damage and Finding Property Insurance Claim Help
Do not ignore minor issues as they could lead to more damage if left unattended. Getting a claim settled is not as easy as you would anticipate. It is highly recommended that you find a licensed public adjuster in Florida to guide you through the daunting task of a property insurance claim after suffering any type of damage. Wind damage affects different parts of your home – including the roof, windows, walls, foundation, doors, etc. Below are a few indicators that you can use to identify wind damage on your home (residential) or business (commercial):
Shingles of your roof are missing
Broken windows
Missing parts of the roof
Curling edges of the roof from missing shingles
Cracks or tears in shingles or flashings
Crooked or missing chimney
Identifying Full Scope of Wind Damage to Your Property
You may have wind damage and not know it. Contact us today to take advantage of a free property inspection and policy review from a qualified public adjuster! Both the exterior and interior will need a full assessment as strong winds can shake even the foundation of your home. If you try to investigate by yourself, you might miss something critical that could cause irrevocable long-term damage to your home or business. If you wait for the insurance company to send their adjuster, you will be assuming a risk that could have easily be avoided. It is prudent to hire one of the best Florida public insurance adjusters that will make sure to get a fair assessment of the damage caused by wind. Trust Public Adjusting Group features a team of insurance and recovery experts that will assess every inch of your property, walk you through every step of this process, and guide you throughout the property insurance claim process and toward a full recovery.
Hiring a Florida Public Insurance Adjuster
Our public adjusters know how the homeowner's insurance and property damage repair industries work. We have the experience needed to help homeowners with all types of property damage. Trust Public Adjusting Group can best help determine the full extent of wind damage to your property after feeling the impact of a tornado, hurricane and any other type of thunderstorm with strong winds. We are ready to assist with your residential or commercial insurance claim.
Now is the best time to find out why so many other satisfied homeowners continue working with our top-ranked public adjusters throughout all parts of Florida! Email claims@trustpublicadjusting.com, call 386-456-6885 (headquarters), or just click here to schedule a complimentary consultation. BEFORE OR AFTER SUFFERING WIND DAMAGE TO YOUR PROPERTY, TRUST US TO HELP THE MOST & REMEMBER – WE ONLY GET PAID WHEN YOU GET PAID.