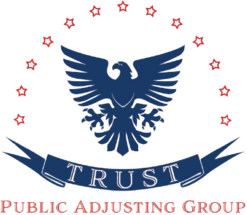 Property Insurance Claim Help
After Fire Damage and Smoke Damage
Fire losses are devastating, Trust Public Adjusting Group is extremely sympathetic to the situation and wants to only help. Post-fire loss obligations can be daunting and property owners may not have the time or resources to focus on what is important, mainly health and safety. There is so much to consider for the property owners including, but not limited to, temporary accommodations, understanding fire insurance policy terms and conditions, proper appraisal of the fire loss, and the massive damage that smoke and soot cause in addition to the fire.
Trust Public Adjusting Group will give you access to our team of expert estimators, appraisers, experienced Public Adjusters with the time, energy, and resources to help properly expedite your fire loss financial recovery. Fire losses are incredibly intricate and having a professional public adjuster helping you navigate your claim process will allow you to focus on your safety and health. Our public adjusters will streamline your fire insurance claim and make sure all property damage is accurately documented, while helping to maximize the total return.
Due to the expense and complexities of a fire claim, the insurance company may not be accommodating. Often the insurance companies will thoroughly investigate the circumstances of the fire to prevent fraud and take measures to minimize their payment, delay, or even deny the claim. It is suggested not to rely on the initial insurers' investigation to properly evaluate the fire loss but rather have a public adjuster working for you and in tangent with the initial inspectors.
The insurer may require an examination under oath, a recorded statement, or other intimidating actions. Getting the right public adjuster as soon as possible will level the playing field and guide you through all these obstacles. Trust Public Adjusting Group has the research and documents from forensic arsenic investigators to help prove the extent of damages cause by the fire, the water, the soot, and smoke. Some of these damages maybe not be as visible but just as damaging.
Give yourself relief and a piece of mind by hiring a professional at Trust Public Adjusting Group. Get started by contacting our team of public insurance adjusters directly (call 386-456-6885 or email Claims@TrustPublicAdjusting.com) or click here to schedule a free property inspection and policy review.