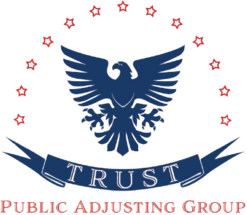 Property Insurance Help After Hail Damage in Florida
What To Do After Experiencing Property Damage from a Hailstorm? 
Our professional public insurance adjusters are the best with helping Florida property owners recover more from their property damage insurance claim after a hailstorm. Trust Public Adjusting Group is a top ranked group of public adjusters boasting all types of storm damage property claims. Our hail damage experts will represent your best interests and help you understand coverage options as set by the homeowner's insurance contract.
After a storm, it is important to check for potential damages by taking a close look at the home's exterior and roof. Gathering and documenting all evidence of hail damage will help insured property owners with the process of filing a property damage insurance claim after any type of severe weather. Even minor issues from a storm could potentially expose the whole roof to need replacement.
Early detection of potential hail damage can help save a lot on future repairs but finding the full effects of a Florida hailstorm can be difficult to the untrained eye. Many people go without noticing hail damage to their property until after water is already leaking into their home or business. Trust Public Adjusting Group will not let the small things go unnoticed. And the KEY is getting a professional to know exactly what hail damage looks like especially because the insurance companies' adjusters can easily mistake hail damage for manufactured damage or heat blisters, which would potentially result in a denied claim. This is extremely important as the proper investigation by Trust Public Adjusting Group and its professionals can distinguish the damage and have the property owners' best interest at heart.
Identifying Potential Hail Damage in Florida 
Did you know that shingles on a roof are prone to get damaged after feeling the impact of a thunderstorm with lightening, heavy winds, or hail? As a matter of fact – All parts of your roof, gutters, and shakes on the exterior are in constant risk to adverse effects of weather conditions. Here are a few indicators to help identify potential hail damage to your home or business…
Point of impact and/or dent on the roof.
"Imbedded" granules
Dents on roof fixtures
Using chalk to indicate "barely noticeable" dents
Aluminum mailbox dents
The asphalt is appearing shiny
Splitting or missing shingles
Creases on metallic roof materials
Hiring a Florida Licensed Public Insurance Adjuster That You Can Trust 
Our Florida public adjusters are hail damage experts! We represent insured homeowners and help navigate the often-frustrating hail insurance claim process. Don't wait on your insurance company to send their own adjuster to inspect potential hailstorm damage as they may mistakenly notate hail damage as heat blisters or manufacturer defects resulting in a complete denial. This happens VERY frequently. Do not just accept their initial assessment of the damage to your property. Our experienced Florida public adjusters will lead you to a full and speedy recovery after property damage from a hailstorm.
We offer free property inspections and consultations for insured property owners throughout the state of Florida! Trust Public Adjusting Group will conduct a full inspection of potential hail damages. You can trust us to help you during any property insurance claim no matter if you are denied, have already filed, or have yet to file an insurance property claim. Get us involved as soon as possible to ensure proper indemnification. Contact our team of public insurance adjusters (call 386-456-6885 or email Claims@TrustPublicAdjusting.com or click here to schedule a free property inspection and policy review.