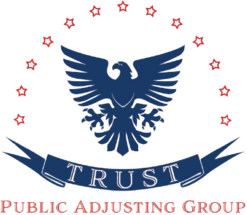 Insurance Company Adjusters and Public Insurance Adjusters, KNOW THE DIFFERENCE
It's important to know the difference between a Public Adjuster and Insurance Adjuster, especially when dealing with property damage and the insurance claim process that comes with it. Since insurance companies have adjusters and "damage experts" looking out for the best interest of the insurance carrier, we believe there should also be someone looking out for the best interests of Florida property owners! Know the difference and make an educated decision when it comes to your homeowner's insurance claim. Everyone deserves a fair claim settlement that covers repairs from ALL property damage and Trust Public Adjusting Group is here to help make this happen.
The two most common types of Insurance Company Adjusters include Independent Adjusters and Staff Adjusters. These are either directly hired by your insurance company or already staffed by their company. Unlike a Public Adjuster, neither are best known for helping homeowners get the most from their homeowner's insurance claim.
Independent adjusters work for third party adjusting companies known as TPA's which are hired solely by the insurance companies. Independent Insurance Adjusters typically claim they are disinterested or mutual, since they work for multiple insurance companies. The problem with this claim is that when estimates keep getting revised by the inside desk adjuster, the carrier will often times stop giving them properties. This practice by the Insurance Company helps to condition the independence insurance adjuster to write the estimate "lite", so they can be assigned more properties to inspect and less "push back" form the insurance companies.
Staff Adjusters work solely for one insurance carrier as an insurance adjuster or damage estimator. Enough said.
Trust Public Adjusting Group is top ranked Private Insurance Adjusting company that has been known to help homeowners increase their overall claim amount by over 700% over the original offer! Click here to complete a short form for getting a FREE property inspection and claim consultation.
Shouldn't there be someone working for you and looking out for your best interest? Trust Public Adjusting Group is a private insurance adjusting firm that will look after your best interests and make sure that you fully recover everything that should be owed. Our experienced team will come assess the damages, seeking out the unforeseen damages and providing expert analysis to better position your claim! If your home or business has suffered damage, contact us at Claims@TrustPublicAdjusting.com or call 386-456-6885 to schedule a free consultation.