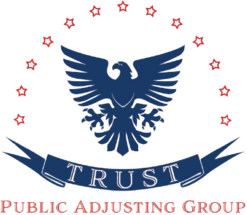 Types of Property Insurance Damage Claims
Our public insurance adjusting firm proudly represents these types of property insurance claims. There is no upfront cost and we don't get paid unit you get paid. Finding a good Public Adjuster in Florida can be challenging, so just let us know how we can help with your property insurance claim. Trust Public Adjusting Group regularly helps all types of insured property owners earn considerably more back on property damage insurance claims than what their insurance companies originally offered. We help business owners and homeowners with ALL Types of Property Insurance Claims including damage caused by wind, water, fire, lightning, hurricanes, hailstorms, tornadoes, thunderstorms and more. If your home or business has suffered damage, contact us (Claims@TrustPublicAdjusting.com, 386-456-6885) and schedule a free consultation with an experienced public insurance adjuster. Navigating property damage is challenging. Our public adjusters help insured property owners with all types of property insurance claims. We will get the most out of your insurance claim.
The knowledgeable public insurance adjusters at Trust Public Adjusting Group will help navigate and expedite this entire process of best dealing with all types of property damage. Our involvement may result in established coverage from the very beginning versus fighting a wrongful denial and dragging the claim process out. Take advantage of our local knowledge and connections by hiring Trust to help your home make a full recovery in the shortest amount of time. Contact us to get started today by calling 386-456-6885, emailing Claims@TrustPublicAdjusting.com or
completing this online help form.