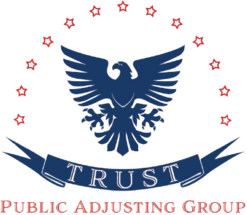 What Is A Public Adjuster
Public adjusters are insurance professionals that represent policy holders once they've experienced damages to their home or business. Having the right to hire a public adjuster is an option that insurance companies do not want you to know about it.
When searching for a public adjuster in Daytona Beach, Ormond Beach, Orlando, Tallahassee, Panama City, or anywhere near in those areas; know that Trust is your best choice. The professionals at Trust Public Adjusting Group are highly trained property adjusters that are experts with estimating property loss and maximizing the return from your homeowner's insurance claim. Our public adjusters can help, no matter the process of your insurance claim. We will examine every detail and make sure that the insurance company provides you with a timely and accurate settlement. If your home or business has suffered damage, contact us at Claims@TrustPublicAdjusting.com or call 386-456-6885 to schedule a free consultation.