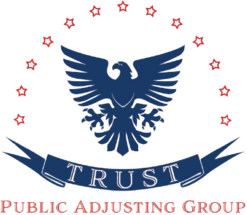 Public Adjusters Helping with
Mold Damage Insurance Claims
Mold damage is a serious and aggressive problem property owners may too often be faced with. Mold can cause health and repertory issues if left untreated. Mold damage to your home or business is often difficult to detect and is only noticeable once it has begun to spread. It is an expensive and time consuming process to successfully eliminate mold fully. As a result: Your insurance company may have a mandatory $10,000 limit to homeowners (chances are that most homeowners will not see this full amount) and the coverage ends-up being too low for covering the total extent of damage mold causes. This is where Trust Public Adjusting Group is here to help with mold damage insurance claims. No matter the status of your mold insurance claim, even if you haven't yet filed a mold property damage claim, our public adjusters help insured homeowners.
There are two main ways our team of top public adjusters will assist with mold damage to property. The first being, communicating with the insurance company to guarantee a maxim payout on the mold damage claim. Many times the insurance company and industry contractors/mold remediators incorrectly categorize aspects of the property damage. A good public adjuster is knowledgeable on policy exclusions and policy endorsements that can be applied and drastically affect the mold insurance claim outcome. For example, water damage can result in a mold claim and visa versa. The insurance adjusters at Trust Public Adjusting Group will help strategize the best outcome for mold or water damage insurance claim. In addition to an accurate payout to policy holders from insurance companies, we can also aid in finding the best mold assessors and remediators in the industry to ensure a heathy, safe, and total removal of all mold.
The second way our experienced public adjustors help with mold damage is preventing it before it starts. Trust public adjusters work aggressively with insurance companies to get water damage taken care of first before mold and mold damage occurs, so property owners are not faced with additional damage or expenses. Trust Public Adjusting Group always offers a free policy reviews and property inspections, so do not hesistate getting in touch with us today. Our involvement may result in established coverage from the very beginning versus fighting a wrongful denial and dragging the claim process out. Schedule a mold damage inspection and policy review. Contact us today by calling 386-456-6885 or emailing Claims@TrustPublicAdjusting.com.