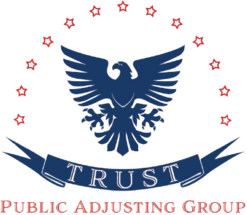 Helping Property Owners
After Suffering Impact Damage
Impact insurance claims may vary in several ways and it is best to have your property inspected by one of our experienced public insurance adjusters after potential property damage. Whether it is a tree branch falling on your roof, car crashing into your building, flying debris from a windstorm, tornado, or hurricane; Trust Public Adjusting Group can help you maximize the payout from your insurance claim and effectively strategize for a proper insurance pay out you (the insured) are entitled to. If your property has potentially suffered any type of impact damage, why wait for a free property inspection by one of our public insurance adjusters? We can be at your property in 48 hours.
One interesting aspect of impact claims is that is typically stems from storm damage (such as hail damage). Depending on how the hail or impact damage is reported to the insurance company may result in an approved or denied insurance claim. For instance, hail damage and impact damage versus manufacturing defects can look remarkably similar, but a trained eye can tell the difference, however, so can the insurance company's adjuster. It is in our experience that the residential and commercial insurance carrier often reports manufacturer defects (among other non-covered perils) instead of hail damage or impact damage. This results in a denial. Also, if the claim is reported as hail and there is no record of hail in the area, the insurance carrier may deny the claim. If the property damage is simply reported as impact damage – this could result in establishing coverage on the insurance claim.
Of course, the above instances are just very simplified examples, however, it does underline the importance of having a public insurance adjuster from Trust Public Adjusting Group getting involved with your homeowner's insurance claim immediately – no matter what the property damage or assumed damage may be. Our involvement may result in established coverage from the very beginning versus fighting a wrongful denial and dragging the claim process out. Proving the full extent of property damage to your home often requires the expert eye of a public adjuster, especially when it comes to impact insurance claims. Schedule a free impact damage inspection and policy review. Contact us today by calling 386-456-6885 or emailing Claims@TrustPublicAdjusting.com.