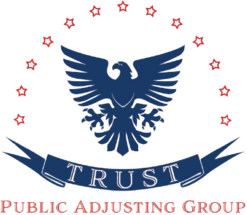 Public Adjusters Helping Happy Homeowners
Find Out Why We Are Florida's Favorite Team of Public Adjusters
Everyone agrees that we are the place to go for excellent customer service, a knowledgeable staff, and an overall great experience. Trust Public Adjusting Group proudly boasts a perfect 5 star ranking from our customer reviews, across the entire the state of Florida. If you or friend has recently suffered property damage, you want the best Public Adjusters to be on your side. Contact our team of experienced public adjusters and find out why we are Florida's top ranked public insurance adjusting company.
We know filing a claim can be both complicated and stressful. Let us put your mind at ease as our expert staff helps guide you every step of the way. Do not deal with the insurance company alone! We work fast and fight hard to get the maximum compensation possible. You may end up settling for less than what you are entitled to or end up coming out of your own pocket to pay for damages. Government studies have proven that property owners hiring a Florida public adjuster can help increase settlement payouts by a whopping 747%. Better yet, homeowner's working with Trust Public Adjusting Group end-up getting much more than the average settlements with little to no out-of-pocket expenses! Become another satisfied property owner and see what everyone is talking about!
"Definitely Recommend" | "Great Experience" | "100% Satisfied"
"Timely" | "Supportive" | "Helpful"
"Professional" | "Knowledgeable"
"Insurance Advocates Fighting for You"
We genuinely care about our customers, their best interests, and their total satisfaction. Contact our team of property insurance professionals today to get you what you deserve. Schedule a free consultation and policy review with Trust Public Adjusting Group when emailing claims@trustpublicadjusting.com, calling (386) 456-6885 or by completing this online form.
Trust Public Adjusting Group – "Helping Happy Homeowners"